What does Conrad Connect's free offer include?
Conrad Connect offers almost all its features also for free. Even the free plan allows for complex home automation routines as well as monitoring multiple sensor readings on one dashboard.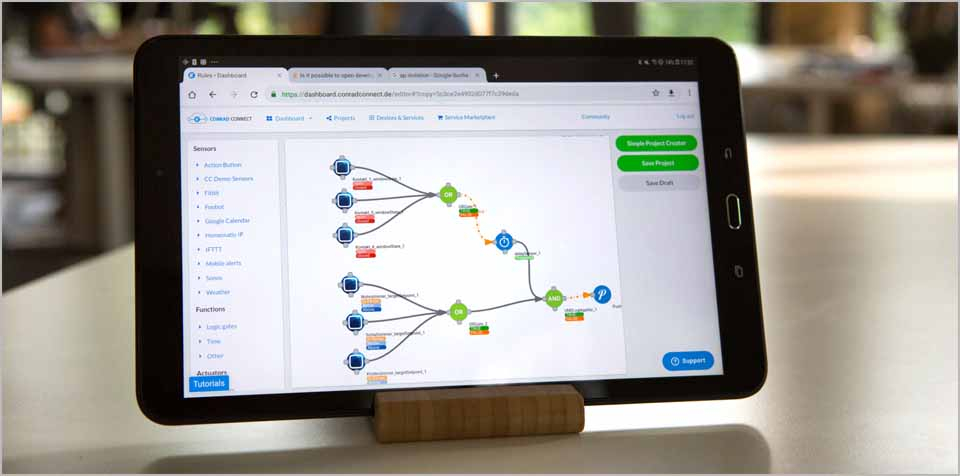 This project shown on the screen contains 6 sensors, 1 message actuator, 1 delay element, 3 logical gates and can thus be run for free.
Additional upgrades (mostly 1,49 €/month) usually unlock larger quantities, please refer to the table below. All monthly subscription packages are valid for 30 days and can be canceled online at any time towards the end of the current period. Subscriptions will only renew for another month.
For any project
(aka recipe or routine)
that you publish, you will be awarded with one additional private project slot.
That is, if have published ten projects, you may operate up to 13 running projects free of charge, ten published and three private ones. A published project is basically a documented template for a project, allowing other users to quickly import that particular routine. Upon publishing you will not reveal personal data.
Good to know:


How to visualize sensor readings on the Conrad Connect Dashboard?
When and how to use message actuators?
How to benefit from publishing a project?




| Feature | Free of charge | Additional Upgrades |
| --- | --- | --- |
| number of private projects | max. 3 | Order Private Projects Premium Service for 1,49 €/month and receive 10 additional private project slots. |
| number of pulished projects | unlimited | - |
| number of dashboards and sensor widgets | max. 1 dashboard with up to 12 widgets | Order Dashboard Premium Service for 1,49 €/month and use up to 4 individual dashboards with up 30 widgets per dashboard |
| number of connected devices | unlimited | Order SMS Subscription Premium Service for 1,49 €/month and receive 10 additional SMS (valid for the booked time period of 30 days). |
| number of Telegram messages | unlimited | - |
| number of PushOver notifications | max. 7.500/month (1) | - |
| number of emails | unlimited | - |
| number project editor elements (actuators, sensors, functions) per each project | max 8 (logical gates not counting) | Order Enhanced Projects Premium Service for 1,49 €/month so as to create projects with up to 18 elements (plus additional logical gates). |
| Data history | Access, visualize, and export sensor readings of the past 3 months | Order Data History Premium Service for the past 12 months (1,49 €/month). |
For Conrad Connect accounts registred prior to 17th of August 2019 the scope of free services may vary. Please note that no liability is assumed for the correctness of this information. Last update: Sept 30, 2019.
(1) Requires the PushOver app available for iOS and Android for which a one-time fee of currently 4,99 € applies. The limit of 7.500 push messages per month is set by the service provider.